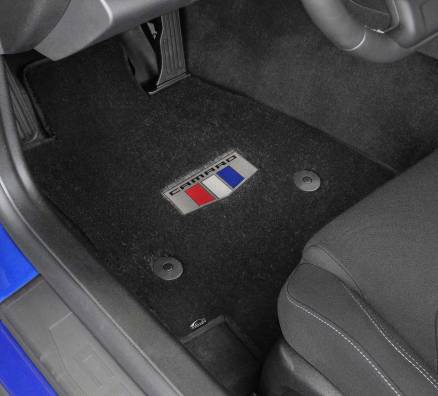 CAMARO FLOOR MATS
Lloyd Mats Store is licensed to manufacture custom-fit Camaro floor mats with logos specific to each of the Camaro generations and years. We supply Camaro SS floor mats for the 2020 and every previous model year, including mats with emblems first seen in 1967-1969 "Gen-One" cars. Our inventory also includes fifth generation 2010 through 2015 Camaro RS and SS floor mats, plus logos for the Camaro Z28. If you're looking for 2017 Camaro ZL1 floor mats, you'll find them with Lloyd Mats Store, and we now also stock Camaro 45th Anniversary logo mats as well.
Our line of Chevy Camaro floor mats includes five different varieties—Ultimat, LUXE, Velourtex, Classic Loop, and Berber 2. Floor mats in all weather materials from Rubbertite, Northridge, and Protector are custom-fit for the Camaro. Designed to fit passenger areas and trunks, each floor mat is computer-designed using the latest CAD software and cut using state-of-the-art automated equipment.
Camaro floor mats are available with seven logos for first-generation vehicles, while there are nine logos for the 1970-1981 second generation and three for the 1982-1992 third-generation Camaro. In addition to 1992 Camaro floor mats, Lloyd Mats Store offers four options for the 1992-2002 (fourth generation) Camaro. If you're looking for 2010 Camaro SS floor mats or 2015 Camaro floor mats, there are sixteen designs available. Also, 2016 Camaro floor mats are in stock, as are mats for the latest 2019 and 2020 Camaro if you're looking for a genuine Camaro shield.
General Motors Trademarks have been licensed to Lloyd Design Corp. for use in all Camaro models.
LLOYD MATS PRODUCTS FOR CAMARO FLOOR MATS