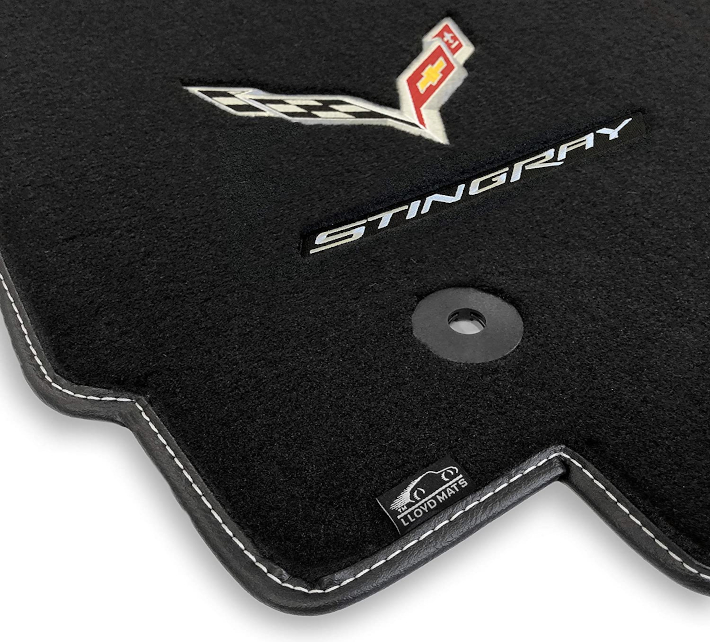 CORVETTE FLOOR MATS
Owning a Corvette is a time-honored privilege. That's why Lloyd Mats designs and manufactures the highest quality car floor mats for all Corvettes. We stock Corvette floor mats and trunk mats for the revolutionary C8 and currently have 18 Corvette C8 logos available. For C7 owners, you can choose from 21 authentic logos spanning all models from Stingray to ZR1 and Grand Sport. Our lineup of Corvette floor mats also includes dozens of Corvette logos for every model of C6 and C5, as well as a wide variety of first generation through fourth generation Corvette. You have come to the right place for the greatest selection of Corvette mats.
Since 1978, customers have been relying on Lloyd Mats for Corvette Stingray and Cross Flag models, with their respective logos. Over time, we've expanded to manufacturing custom-fit Grand Sport, ZR1, Z06, and C5 Corvette floor mats. We offer custom-fit Jake logo floor mats if you're a car racing enthusiast. Even spruce up your ride with a C6 or C7 Jake Skull logo!
The leader in licensed Corvette car mats, we develop the finest-quality car floor liners with over 100 different Corvette trademarked logos. Logos from all models and years are reproduced in precise detail. Our Corvette mats are available in more than 100 colors as well. Each design and pattern is produced using state-of-the-art computer-aided design (CAD) software and automated cutting equipment.
Our custom Corvette floor mats cover as much surface area as possible to maximize protection on floors and in cargo areas. Owners of the Great American Sports Car can therefore honor their vehicle by preserving its quality. Lloyd Mats Store is proud to have served all seven Corvette generations. In addition to 100-plus General Motors Corvette-approved badges, we offer premium LUXE, Berber 2, Classic Loop, Ultimat, and Velourtex materials and weather-resistant Northridge, RubberTite, and Protector mat products.
No matter what custom car floor mats you choose, our quality is unbeatable among even the best Corvette accessories.
LLOYD MATS PRODUCTS FOR CORVETTE FLOOR MATS