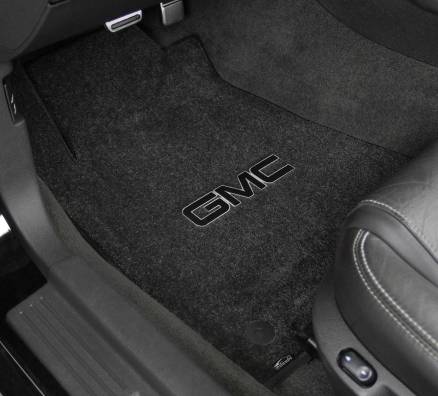 GMC TRUCK/SUV FLOOR MATS
Lloyd Mats has been manufacturing custom fit GMC truck and SUV floor mats for over twenty years. We take special care in measuring every specific model to insure that unique features are incorporated and fit is not compromised. Unlike other brands that use a single pattern across several models and makes, for example GMC and Chevrolet. We find the differences that make the perfect fitting floor mat.
Custom fit floor mats and cargo mats for Yukon, Denali, Terrain and Acadia are offered for all second seat and third seat areas. Lloyd Sierra floor mats and Canyon floor mats include options of custom fit floor mats for extended and crew cab areas. Most custom fit mats for rear passenger areas are offered as one piece door-to-door coverage for maximum protection.
Lloyd Mats specializes in custom fit logo floor mats for GMC trucks and SUVs. We have been a General Motors licensee for twenty-four years and offer a variety of GMC approved logos on our five carpet qualities.
Lloyd Mats offers custom fit All Weather mat protection for all GMC vehicles, in the Rubbertite, Northridge and Protector products. Highly durable All Weather floor and cargo protection for GMC trucks and SUVs in the same exact fit patterns as our licensed GMC logo carpet mats.
General Motors Trademarks used under license to Lloyd Design Corp.
LLOYD MATS PRODUCTS FOR GMC TRUCK/SUV FLOOR MATS